Location: Buckinghamshire
System: Ultrasky Orangery
After six years in their modern detached home in Buckinghamshire, the Varrie family were keen to upgrade their way of living. With three teenage children, they decided to expand their family space and bring additional light into the kitchen. They also wanted bifold doors to open up their living space and let them make the most of their garden.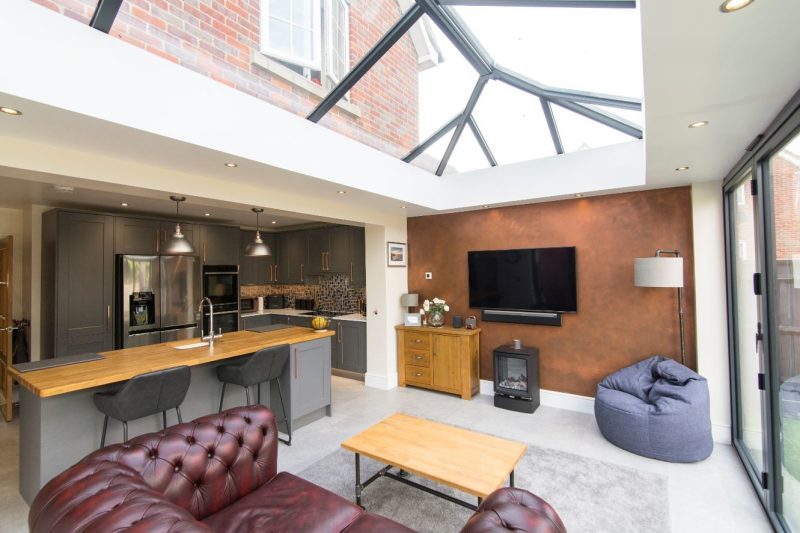 Our helpful team showed them a range of Ultraframe systems and design options for them to choose from, eventually settling on a large contemporary orangery with an Ultrasky roof. With its immense strength, the Ultrasky system requires 25% fewer bars than competitor systems, adding a bright and contemporary look with more sky and less roof. By incorporating a structural goalpost, there is no need to include additional structural supports above spans of bifold doors.
When asked about their stunning new addition to their home, Mrs Varrie noted:
"We looked at a number of different options but didn't like the traditional tie bar across the roof that featured on other systems. Ultraframe gave us the clean lines and modern, stylish look we were looking for, and the quality of the roof product was reassuring."
Our team of professionals removed 4.5m of the existing kitchen wall before building the 5.5 x 3.5m orangery with two sets of bifold doors to open the space up to the garden. The anthracite grey roof and doors added a contemporary style, and a curved cornice and brick pillars provided the sleek finishing touches.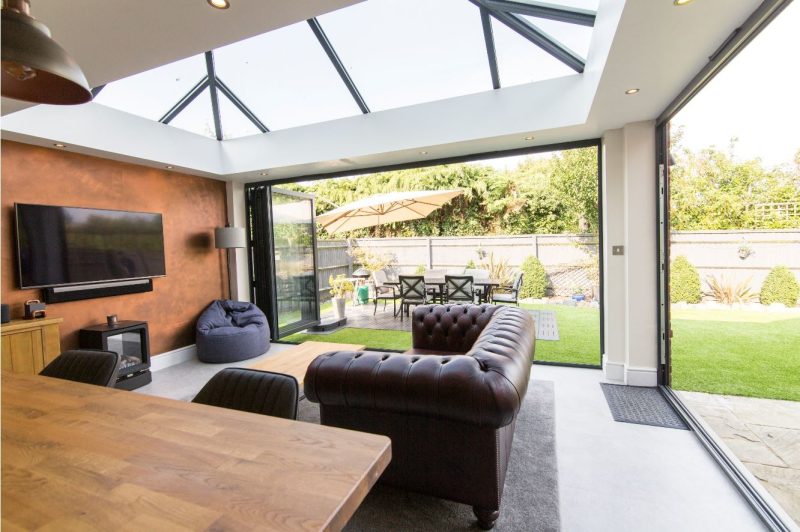 The Varrie family were thrilled with their new addition, with Mrs Varrie explaining:
"We love our new Orangery. It has completely changed the house and brought much more light into the kitchen as well as making it far more sociable. We use it all the time as an additional family room to relax in and watch TV. It's also brilliant opening all the doors allowing the garden to become a part of the house. We couldn't imagine our home without it now!"
Like many homeowners, the Varrie family were keen to introduce more natural light and space to their home. The stunning addition of an orangery allowed them to transform their property without the stress of having to move house. It has allowed them to utilise the full potential of the space, with Mrs Varrie concluding:
"We have been able to put a new kitchen in which works much better for a family of five and is so much lighter. The Orangery has also brought much more light into the house – our garden is north facing, so this really helps. While we always loved our home, the Ultrasky Orangery has made such a difference and enabled us to get the kitchen/family room we've always wanted. We now have a fantastic space to relax in and enjoy all year round. The customer service from Vale Conservatory Company was good, and the team on site were very professional and kept us informed throughout the whole process and build. In fact, we have already recommended them and Ultraframe products to family and friends!"